Vision and Background
Our vision is to sustain our program as a demonstration of a "Premedical Corps", similar in spirit to the Peace Corps or Teach for America. In such programs, young people earn a stipend while gaining experience working in areas of high need for a few years before continuing their educational and professional journeys.
This program, created in 2005, has grown every year to include more robust experiences, larger and more impactful scientific research, as well as more hands-on training with patients and mentors. 
---
Program Objectives
Create better doctors/health care professionals/researchers by exposing and preparing them for the future rigors and rewards of health care including developing a research project, conducting a clinical trial, assisting with integrating patient care, and collaborating in decision-making processes.

Get assistance in clinical trials, research programs and clinical services where funding may not be available at this time (i.e., opportunities that are non-mainstream/more cutting edge or in the preliminary phase).

 Infuse the current team with the excitement and enthusiasm of a highly motivated group of individuals.
---
Position Overview
Although each person applies under the same intern cohort, each position an intern will be accepted into is unique from all other positions.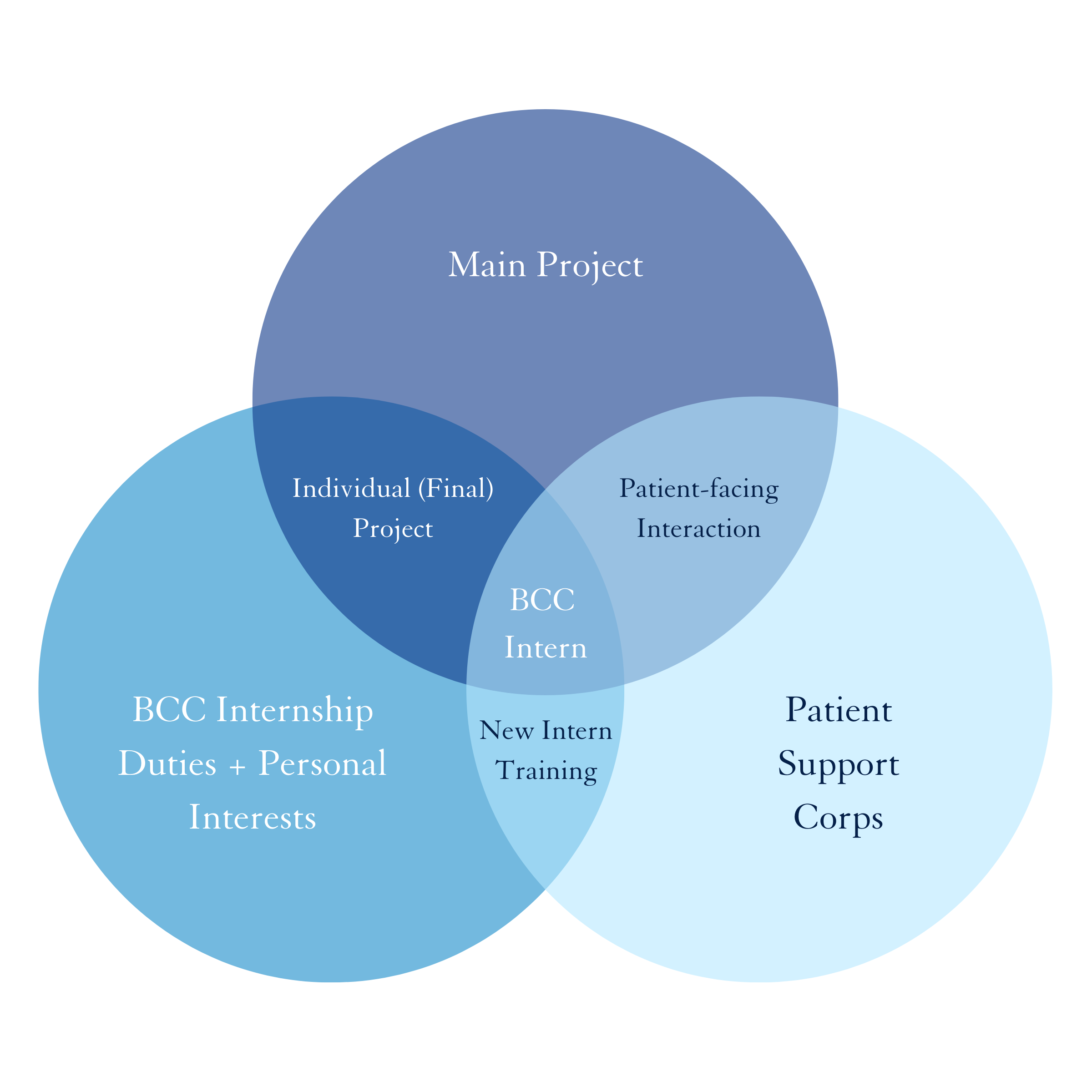 Your position will include the following:
Main Project/ End of Year Project
Each intern is given a group of projects to spearhead throughout their time with the Breast Care Center. They are guided by a mentor as well as the internship program leadership. Most interns throughout their service are also involved in abstract publications, posters, manuscript publications, conferences, and symposiums.
Past projects our interns have worked on include:
In addition to their main work project, each intern, under the guidance of their mentor, picks a personal research project to pursue during their intern year. Each year culminates in an end-of-the-year public presentation on these research projects given to physicians, peers, and UCSF faculty and staff.
Some prior final presentations can be viewed here: Intern Final Projects.
Interns typically work with patients who participate in clinical trials or studies, and they may be asked to assist with their care.
Responsibilities include, but are not limited to, the following:
Confirming a patient's appointments
 Coordinating with practice coordinators and providers
 Patient recruitment and participation
 Explaining information from a clinical trial or study, and more.
These responsibilities may require you to enter the clinic.
Interns are typically assigned to research trials or studies.
Responsibilities include, but are not limited to, the following:
Data collection
 Maintaining regulatory procedures
 Developing trial or study materials
 Assisting with whole slide imaging techniques
 Analyzing data and more
Interns may also have the opportunity to attend conferences and/or be included in publications.
All interns dedicate a fraction of their time to serving as a patient scribe for the Patient Support Corps (PSC). As PSC members, interns directly communicate with BCC patients through clinical systems (Epic), develop question lists with patients for their clinic visits, and attend appointments for recording and note-taking purposes. Interns will participate in weekly meetings to discuss cases and refine scribing and communication skills.For more information on the Patient Support Corps, please visit: https://psc.ucsf.edu/
Our goal is to foster a professional learning environment for our interns.  They will be assigned to one or more mentors (MDs, PhDs, etc.), have the opportunity to hone presentation and writing skills, attend lectures, and observe surgeries or other procedures.
Interns will learn the intricacies of the medical and healthcare system through various healthcare providers and leaders.
 
---
If becoming a UCSF BCC intern interests you, please check out our 'How to Apply' section for information on application requirements as well as deadlines for our upcoming internship cycle.
---